by LINDA HARNISCH
A tricky problem is forcing a paradigm shift in mobile app marketing. Paid acquisition is expensive and platforms are losing users before they generate revenue. Keeping customers loyal and enthusiastic, and retaining them in the long run is key. Mobile Customer Relationship Management (mCRM) describes exactly that–a systematic approach for companies to communicate with their customers. In this post we will be sharing where we think mobile CRM is headed in 2019.
Mobile CRM trends in 2019 (Graphic by Customlytics)
New Ways of Managing Push Notifications and More Control for Users
Push notifications continue to be a powerful tool in app marketing and re-engaging users. Apple's latest mobile operating system iOS 12 promised a new day for push. Similar to Android push notifications, they can now be sent to users as soon as they have opened the app at least once. In contrast to Android, these "consent-less" push notifications are only delivered silently to the iOS notification center. Users then may choose to open the corresponding app, dismiss the message, allow full push notifications for corresponding app or disable push notifications for this app.
Push notifications continue to be an essential tactic for re-engaging users. We will see way more of it in the future but must bear in mind that users are increasingly aware to opt out from irrelevant messages. For regular push notifications, active consent is still necessary on iOS. So it is high time for marketers to get the most out of their push strategy and pay attention to content quality.
How to create outstanding push notifications (Graphic by Customlytics)
Segmenting Users Becomes Key for mCRM Campaigns
In a recent article, Runtastic's growth manager, Christinne Cuyugan, gave a glimpse into the app's retention strategy. She suggests moving away from the usual user buckets of demographics and location, and moving toward more meaningful ones that are behavior-based. User segments based on loyalty, activity/hibernation, and risk are more insightful.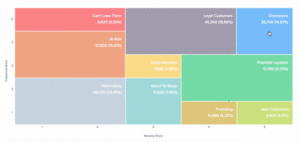 An example of behavior-based user segmentation. Source: CleverTap
This might not be groundbreaking news, but we have seen that, in general, app marketers have not yet fully explored new ways of grouping users and automating segmentation. Joachim M. Guentert, the Global CMO at CodeCheck, points out, "We have mainly focused on UA so far. Christian [Eckhardt] and Raul [Truckenbrodt, CEO and Co-Founders of Customlytics] recently directed us towards a more personalized approach to address our users. In 2019 we want to take more steps towards an increasingly personalized product and user approach. Segmentation will become critical for us in the months to come to develop more and more personalized marketing campaigns and content." And 83% of customers are indeed willing to share data to enable a personalized experience. The data is there but it takes the right tools, time, and knowledge to get the most from mCRM. The number of vendors in the market is staggering, and app marketers have to make sense of the increasingly complex software landscape.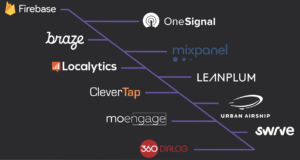 mCRM vendors in 2019 (Source: Customlytics)
Will Mobile Web Push Become the Norm in 2019?
Where do web push notifications fit into the picture? Similar to mobile push notifications, web push is an app marketer's best friend when it comes to sending rich browser notifications to anyone that opts in. Marketers will recognize the value of web pushes even more in 2019 in terms of reaching (re-)engagement. While the early adopter phase has peaked, brands' attention will shift to stand out from the crowd with a polished web push strategy.
While mobile is outpacing desktop news consumption, this channel is still used by over a third of consumers. Marketers should take some lessons from mobile. E-commerce and news services have used web push successfully. A thoughtfully crafted push permission flow, and a polished push strategy, can help to stand out from the crowd.
Traditional Mail Providers Are on the Retreat
Email marketing is just as relevant as ever. Custonlytics predicts that even non-mobile-first companies will start choosing mobile-focused CRM tools over traditional email clients (some have already started to). Mobile-focused CRM vendors are lurking around the corner with attractive feature sets. Automation means marketers no longer have to do the heavy lifting to optimize email campaigns. Segmentation and pace of innovation are big reasons to switch away from traditional mail providers to mCRM tools in the space.
Traditional software companies and their influence will undoubtedly enter the CRM space. Will the CRM software with the best sales team or the best technology come out on top? Will software prices and salaries increase since the corporate world needs the best talent to handle tools? Time will tell. But traditional brands will need to move the needle toward the mobile-first design that more agile mCRM tools have already embraced for quite some time.
New Messaging Channels for mCRM Vendors
Messaging apps continue to proliferate. As messengers surpass social networks in user numbers, they become critical marketing channels for mobile businesses.
WhatsApp rolled out its own Business API for vendors in January 2018, and 2019 has been dubbed "the year of excessive growth on WhatsApp Business." We predict that messaging systems such as Facebook Messenger or WhatsApp will soon be integrated into mobile CRM tools (they are already for some cutting edge mCRM players). These will serve as additional powerful channels that marketers can use for app automation, engagement, retention, and customer satisfaction.
These are just some of the many app marketing and retention trends for app marketers to watch in 2019. The Customlytics team hopes you're excited for a new year in app marketing and feel on top of the ever-changing landscape of mobile engagement and retention.
About the Author
Linda is a Business Development Manager at Customlytics, an app marketing, analytics and technology consultancy in Berlin. She strives to produce engaging content and has been venturing into the world of mobile since joining Customlytics. Previously, Linda held roles at communication consultancies and managed various industry award programs in digital communications and marketing. You can find Linda on LinkedIn.
Want to find out more about taking your app marketing up a notch, retention trends, data & analytics and much more? Drop us a note at info@customlytics.com, follow us on LinkedIn and join the Berlin Mobile Marketing & Growth Meetup.