By André Melo, VP of Products and Marketing, PSafe
Companies are always looking for the best way to get customers and sell their products and services. Product Led Growth (PLG) has emerged as an increasingly important strategy for many organizations.  
Competition has been increasing over the last few years, mainly with the internet and methods of client acquisitions. We can see that over these last periods, companies and people purchasing products and services have also changed. 
The rise of Product Led Growth
Recently, companies have been moving away from a model in which the sales team was important in propelling the company's growth, going through a model in which the marketing team started to lead the entire process. But what is relevant in many ways and proven through research is that the more contact customers have with your product or service, the greater the chances of them purchasing it. 
Today, 65% of purchasing decisions have already been made before customers speak to the sales department. We have moved past this marketing-focused sales model to an acquisition model where the product becomes the center of the entire acquisition. 
See below the comparative table of the evolution of these models: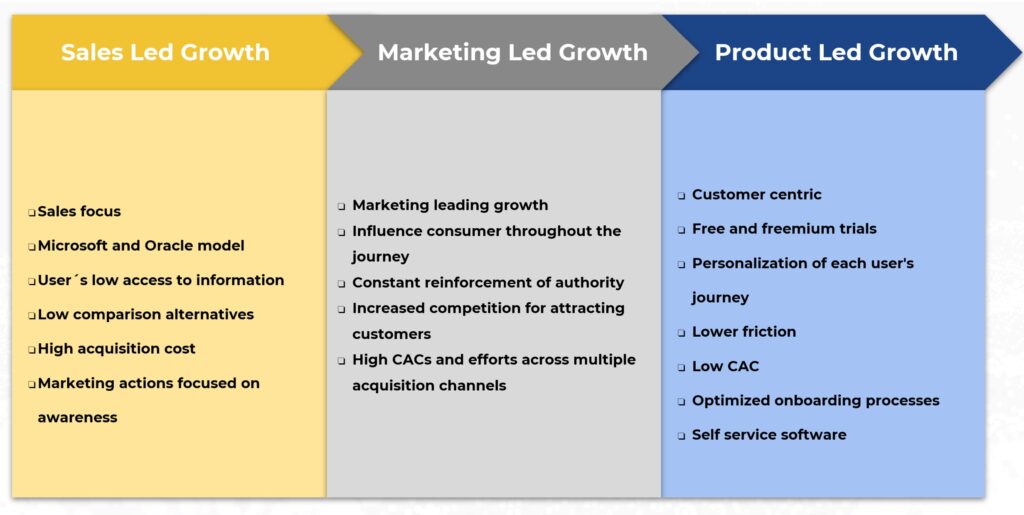 Putting Product Led Growth into action
When we talk about Product Led Growth (PLG), we put the customer and the product at the center of the journey. Most importantly, we let the product speak for itself, often using a freemium strategy (or a free trial) to let users get a taste of what the product has to offer and then convert them to subscribers, often with the promise of access to premium features. Companies like Slack, DocuSign, Dropbox, and HubSpot all practice some version of this strategy with great success. 
This strategy proves to be a winner when talking about low CACs and knowledge of the product sold. It is important to point out that there is a whole cost optimization of the company since it provides a better experience. The user becomes incredibly involved with the product and more familiar with it, which then becomes indispensable. Basically, you have a drastic cost reduction since you have a lower acquisition cost and a reduction in sales team expenses. The entire onboarding and sales funnel takes place in the first moments of using the product… on its initial screens, including with regard to payments. This means a lot of thought needs to be given to the product and how the experience of using it will move users deeper into the product and promote paid features. 
Tips for adopting a Product Led Growth strategy
Develop features that allow you to attract more users

 

Create a customer-centric product: focus on generating value for the user and their pain points.

 

Empower cross-functional teams (marketing, sales, and customer success) that work together to make a better self-guided experience, and purchase process

 

Embrace a data-driven mentality; focus on segmentation, personalization, and more efficient conversions

 

Ensure you have frictionless funnels in the product experience to ensure users can see your value

 

Messages on your website or app that are clearer and more focused on the user

 
When we are talking about my PLG experience, I would say that proves to be a winner, but it also checks the needs of the company that wants to use the model on a case-by-case basis. 75% of B2B buyers say they prefer to buy through an app or website rather than a seller, which is why it's important to develop products that keep these customers in mind.  
Also necessary is the maturity of cross-functional teams with the development of software and applications. All areas must be engaged and focused on improving their products and business. These teams have to be focused on SMART deliverables.  
When the company is not really prepared to use this strategy, you can't be as profitable as is necessary to grow your business and must expend more on research to understand your consumers.