As we enter the Thanksgiving and holiday season, gratitude is a popular emotion and theme. Reflecting on and sharing gratitude is often on the mind for many of us. While gratitude fits with the spirit of the season, it also brings benefits to those who practice it. A recent article on PositivePsychology.com noted that "gratitude reduces stress, increases optimism, and changes your brain."
While gratitude can be expressed and shared in many ways, mobile technology provides great tools to help with this grateful season. There are several different kinds of gratitude-based mobile apps that can be particularly impactful for those who wish to go deeper in exploring their personal gratitude or to take action to thank others.
Gratitude journal apps
If you search Google Play or the App Store for "gratitude journal," you will see dozens of results. Gratitude journals use mobile technology to spur personal reflection on gratitude. The original Gratitude Journal was published by entrepreneur Carla White. The app helps you capture and reflect on each day's best moments while encouraging you on your personal journey.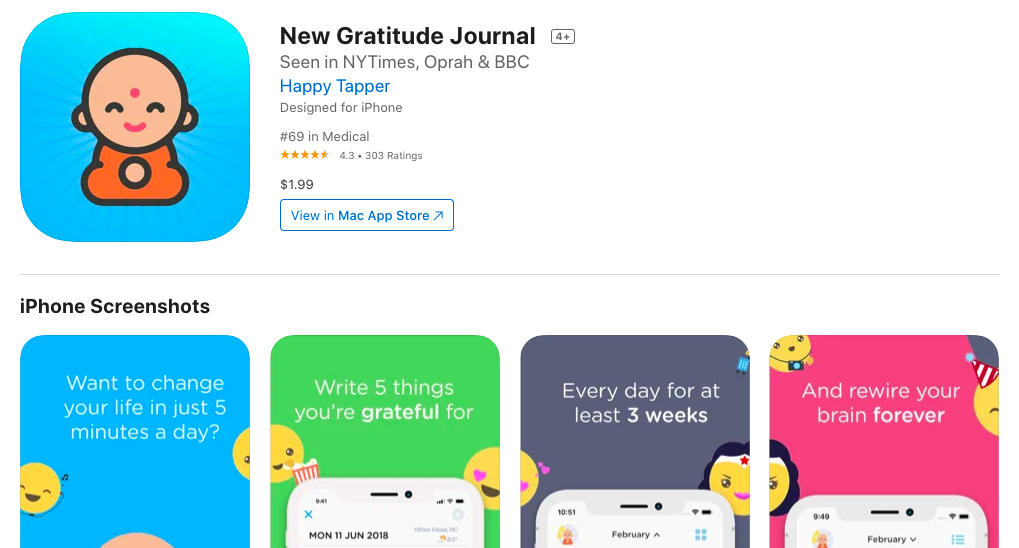 The Gratitude Journal has been featured on Oprah, NPR, in the New York Times, USA Today, Forbes and elsewhere, in part because Carla was the first woman to publish an iOS app in the App Store in 2008. Today she is a nationally recognized speaker and author, and her Gratitude Journal has remained one of the top downloads in the App Store for years.
Charitable giving apps
Another type of gratitude app is exemplified by Grateful, a digital platform for charitable giving. The Grateful App provides virtual giving cards called Grateful Cards™, where individuals and businesses direct donations to different nonprofit organizations and causes in need. The app helps users connect with more than 1.5 million 501(c)(3) charities. The charities range from children's organizations to disaster relief to animal welfare and many more.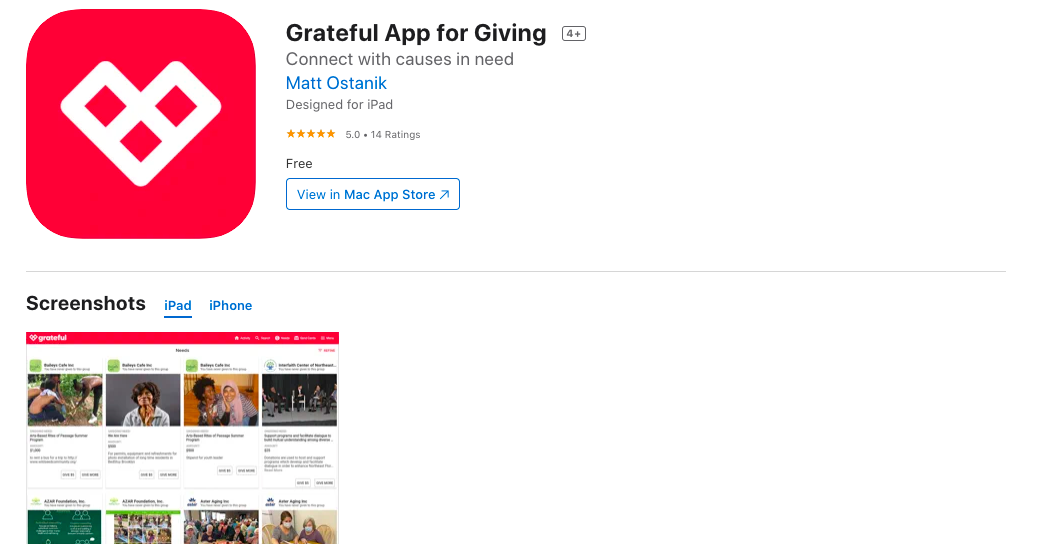 Each day, the news floods us with headlines concerning events around the world, from hurricanes to child hunger rates. What if you could play a part in helping a cause that's meaningful to you? Technology can help people give from anywhere, and now is a great time to use mobile technology for your charitable and philanthropic interests. 
Gratitude in action
Gratitude is powerful. Taking time to appreciate others and noticing the small moments can truly transform your day. Gratitude has the ability to change our perspective, improve our mental and physical health, and boost our energy. Whether it is a reflection on our personal moments of gratitude, giving to a charitable cause in need, or sharing the gift of giving with someone else to share your gratitude with them, 'tis the season for gratitude and gratefulness.
While reflection and giving have been possible even before the modern era, mobile technology has amplified and enhanced our ability to leverage gratitude both during this season and year-round. By using mobile technology to capture our own gratitude thoughts and to give or support a need up the street or on the other side of the world, we can bring gratitude to life now and into the new year.